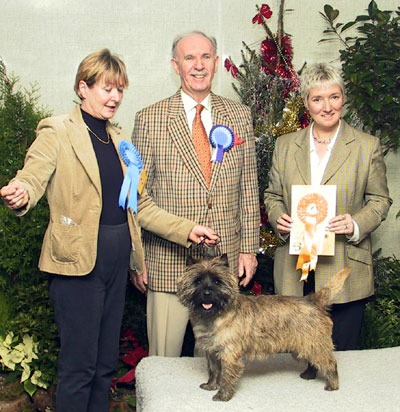 Sonny winning the Pedigree Champion Stakes at LKA 2002, with judge Albert Wight and Pedigree Masterfoods representative Sally Richards.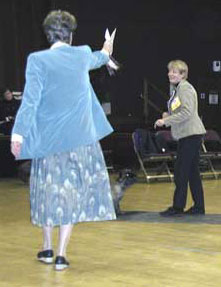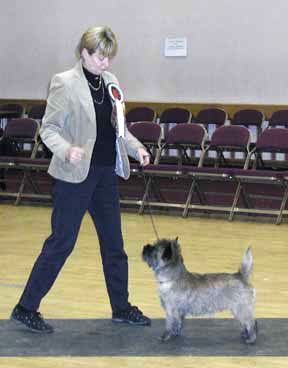 Sonny winning CC, BOB & BIS at the Cairn Terrier Association Championship Show.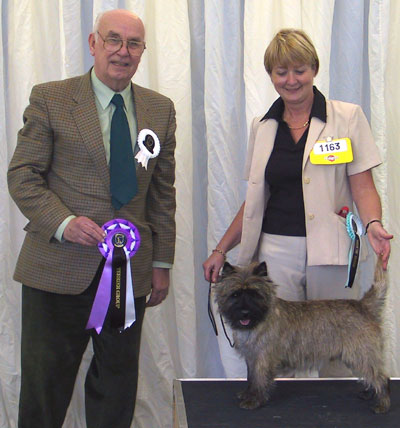 Sonny winning Group 1 at Darlington, with judge Mr Ken Bounden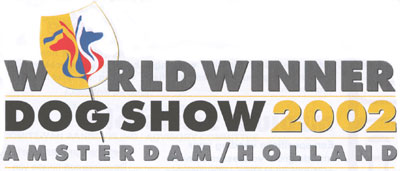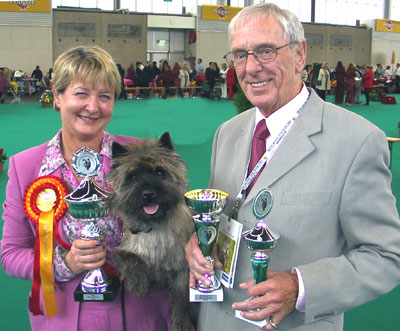 Sonny winning at World Show in Amsterdam. Judge: Frank Edwards.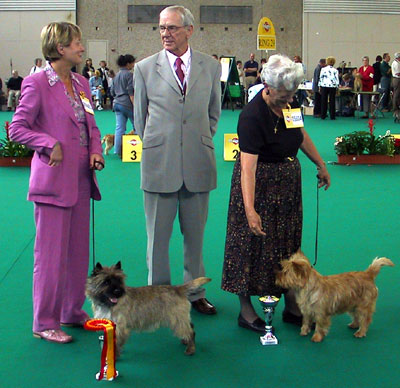 Left: Ch. Shearwater Cae de Sonhas. Right: Danish Ch. McAlister's Danish Viking.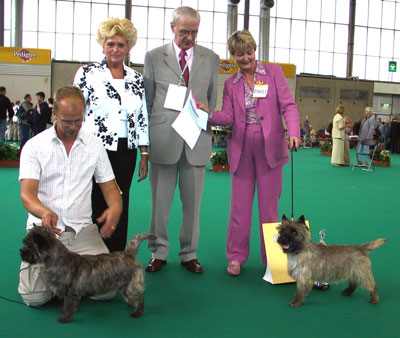 Left to right: Int. Ch. Rottrivers Queen of Hearts, Mevr. M. v. Brempt (Bitch Judge), Mr. Frank Edwards (Dog and BOB Judge), Ann with Ch. Shearwater Cae De Sonhas.

NEWS
Sonny Ch Shearwater Cae de Sonhas wins the Champion Stakes (Terrier, Gundog and Hound), at the LKA Ch. Show, 13 December 2002. Returns to win the overall Ch. Stakes (2 days), 14 December 2002.


"Champion Stakes overall winner Wall's Shearwater Cae De Sonhas. I have previously given this Cairn the CC & BOB when he looked wonderful. However, I think he is now even better and surely must be just about at his peak. Has a style, an air of confidence and even an assurance about his aura and was at the peak of condition. A top class example of his breed and I love the fact that he needs no aids, tonsorial enhancements or to be strung up or held in place. He stands on a loose lead, his feet are placed spot on and don't require human correction to 'look right'. He moved out with a real spring in his step, totally in balance and even striding, and when he stops he is four squre with his feet and immediately shows his head off."
Albert Wight (Champion Stakes judge), LKA 2002.