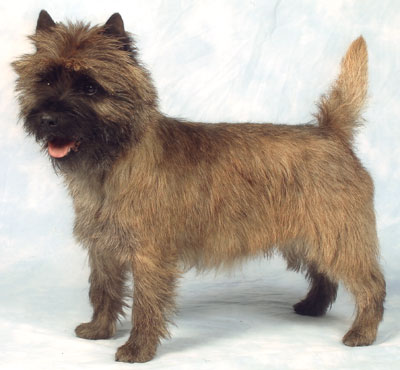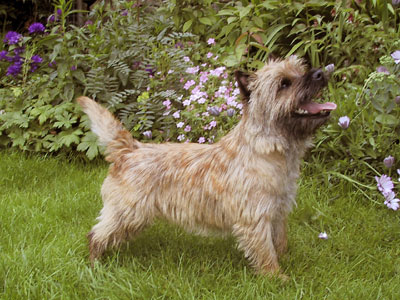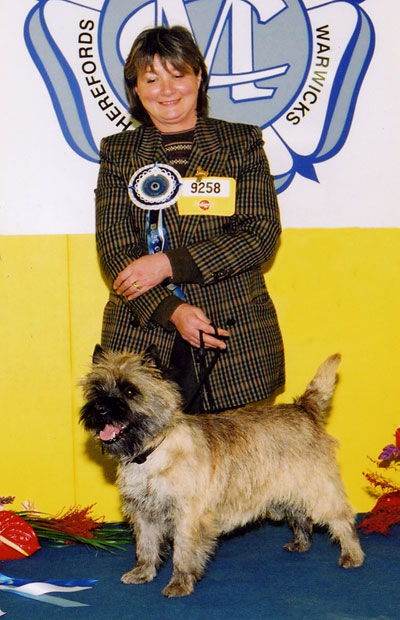 Photo © john D Jackson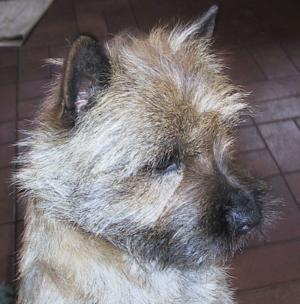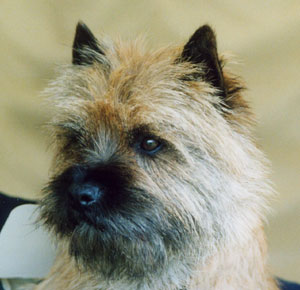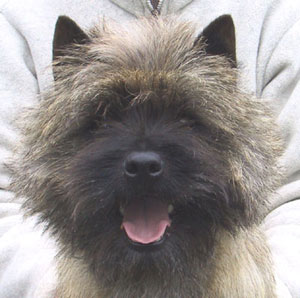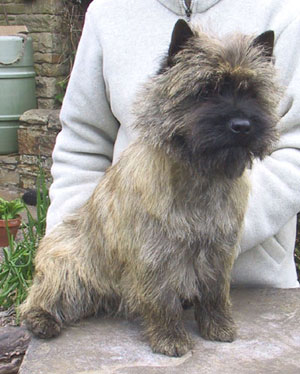 SONNY
CH. SHEARWATER CAE DE SONHAS
Dog - 29/7/98 - red brindle
DGS/109

WORLD CHAMPION
CACIB at the World Dog Show, Amsterdam, July 5 2002
Winner of the Pedigree Champion Stakes, LKA Ch. Show, 13 & 14 December 2002

JOINT TOP WINNING CAIRN 2001
TOP WINNING CAIRN 2002
Awards to date: 28 CCs - 13 BOBs - 14 Res CCs - 2 CACIBs - 2 Green Stars - 2 Res. Green Stars - 1 CAC - Best Puppy - Group 1, Group 2 & Group 3. Champion Stakes winner.

CCs to date:
1. SWKA 2000 - Judge Michael Quinney
2. Bournemouth 2000 - Judge Mrs Jenny Oldale
3. LKA 2000, CC, BOB & Group 2- Judge Mrs Sue Kinton; 2nd in Group - Judge Mrs Liz Cartledge.
4. Crufts 2001 - Judge Jim Wilson
5. Southern Counties 2001, CC & BOB, Judge Ian Kettle
6. SWKA 2001 - Judge Bill Cammish
7. Paignton 2001 - Judge Kevin Holmes.
8. Leeds 2001 - Judge Jack Watson.
9. Bournemouth 2001 - Judge Terry Thorn.
10. City of Birmingham 2001, CC & BOB - Judge Mr J T P Roberts
11. Richmond 2001, CC & BOB - Judge Mr Les Aspin
12. Darlington 2001 - Judge Miss A R Parker-Tucker
13. Midland Counties 2001, CC, BOB & Group 3 - Judge Mrs Chris Roberts; 3rd in Group - Judge Mr Derek Tattersall
14. Midland Cairn Terrier Club 2001 - Judge Mr Joe Dean
15. National Terrier Club 2002 - Judge Mr R Croyman
16. Scottish Kennel Club 2002 - Judge Albert Wight
17. Bournemouth 2002 - Judge Mr T M Evans
18. Welsh Kennel Club 2002, CC & BOB - Judge Mrs M Shopland
19. City of Birmingham 2002 - Judge Mr D Winsley
20. Richmond 2002, CC & BOB - Judge Mrs F A Somerfield
21. Darlington 2002, CC, BOB & Group 1- Judge Mrs Leone Z Spence; 1st in Group - Judge Mr Ken Bounden
22. Cairn Terrier Association 2002, CC, BOB & BIS- Judge Mrs Liz Cartledge
23. Midland Cairn Terrier Club 2002 - Judge Mr Alf Jennings
24. Driffield 2003 - Judge Mr Les Aspin
25. Manchester 2004, CC & BOB - Judge Mr Frank Edwards
26. Leeds 2004 - Judge Mr M Marshall
27. Richmond 2004 - Judge Mrs Jeanette Smith
28. Midland Counties 2004, CC & BOB - Judge Mr P Greenaway
29. Manchester 2005, CC, BOB & Group 4 - Judge Mr Frank Jones, Group Judge Mr D Munro
Overseas awards:
1. CAC & CACIB, World Show 2002, Judge Frank Edwards
2, CACIB & Green Star, St Patricks Day Show, Dublin, Ireland, 21 March 2004. Judge Albert Wight.
3, Green Star & BOB, Limerick, Ireland.

Res. Green Star - Killarney
Res. Green Star - Tralee
"Champion Stakes overall winner Wall's Shearwater Cae De Sonhas. I have previously given this Cairn the CC & BOB when he looked wonderful. However, I think he is now even better and surely must be just about at his peak. Has a style, an air of confidence and even an assurance about his aura and was at the peak of condition. A top class example of his breed and I love the fact that he needs no aids, tonsorial enhancements or to be strung up or held in place. He stands on a loose lead, his feet are placed spot on and don't require human correction to 'look right'. He moved out with a real spring in his step, totally in balance and even striding, and when he stops he is four squre with his feet and immediately shows his head off."
Albert Wight (Champion Stakes judge), LKA 2002.
"Finally it had to be the Cairn, Ch Shearwater Cae De Sonhas, the first impact was of the perfect head and expression, alert, full of its own importance, the hands moved over the dog and he really is a thrilling animal. Strong neck, flowing into well laid shoulders, good ribcage, firm back, perfect topline, hard loin, just the right amount of angulation and developed thigh and second thigh, excellent bone, tight feet, driving and springy action , the sort of dog who makes one envious."
Ken Bounden (group judge), Darlington 2002.
"Outstanding type, beautiful head and expression. Excellent mouth. Very good reach of neck. Correct angulation, topline and tailset immaculate. Presented in excellent coat. So sound in movement. Grade excellent. CAC & CACIB, Best of Breed."
Frank Edwards (Judge), World Show Amsterdam July 5th 2002.
"Lovely dog in top form, looking the part whether in stance where he is so attentive or moving where he makes full use of the ring to stride out with a sense of purpose. Lovely example of the breed, beautifully put together, has leg length, body length, useful neck and cracking head to complete the picture. Well prepared jacket, showmanship and you have a tough nut to crack. Looked well in the group and was shortlisted. CC & BOB."
Albert Wight (judge), Scottish Kennel Club, May 2002.
"What can I say? The ring was his, upstanding red brindle in excellent coat and condition, superbly presented, everything I look for in a Cairn, best of movers, excellent showman. CC & BOB."
Chris Roberts (judge), Midland Counties 2001
"Most attractive red brindle in superb order, very eyecatching, wonderful head and expression, well balanced, lovely to handle on the table, excellent neck and shoulders, level topline, good tailset, lovely front standing, very free movement. Delighted not only to see him but to be able to award him another CC."
- Ruth Parker Tucker (judge), Darlington 2001.
"Red brindle in superb condition, nice harsh jacket, conformation could not be bettered, excelled in head and good eye colour, movement was first class both front and rear, really warranted his win in this very good class, superb showman. CC & BOB."
- Philip Roberts (judge), City of Birmingham 2001.
"Very attractive red, lovely dark mask giving super mischievoous expression. Good length of neck into sloping shoulders, level topline, good spring of rib, well muscled hindquarters, covered the ground with drive and showed with verve which I felt gave him the edge on the day. CC & BOB. I was thrilled to watch him go on to being pulled out second in the Terrier Group under Liz Cartledge."
- Sue Kinton (judge), LKA 2000.
Published comments by Liz Cartledge, Group & Best in Show Judge LKA 2000:
"I thought the terriers scored heavily in quality ... the sound, workmanlike Cairn, made up on the day, was rather more laid back about it all but he moved with purpose and was enjoying his big moment. With his lovely body and topline, keen eyes and expression and correctly carried tail he made a good second here in the Terrier Group."